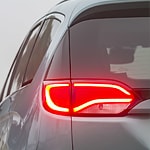 You will want to check out the Chrysler Pacifica Hybrid for yourself to see what the fuss is all about. You will love the spacious interior, combined with the modern amenities that you would expect from a vehicle made by Chrysler. Here are just a few of the interior features that you will notice and get excited about.
The stow 'n go feature is one that you will never want to live without again. Rather than struggle with seats that never seem to move like you want them to, the Chrysler Pacifica Hybrid allows you to fold down flat either the second or third row of seats. This is convenient.
You will also find that the 2-4-3 configuration included in the design of Chrysler Pacific Hybrid allows everyone to have their own space. Each person can move around freely, while still having plenty of space for any personal belongings that need to be brought along on a trip.