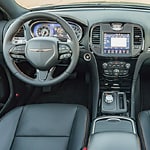 Some drivers want people to notice them when they travel down roads in Pocatello. Others must notice the car to notice the driver. The Chrysler 300 becomes a highly noticeable car thanks to its awesome full-sized luxury design look. The interior proves as equally impressive as the exterior. Look inside and see what the 300 offers.
Getting behind the steering wheel becomes a futuristic experience with the Chrysler 300. Besides the visually appealing leather wrapping, the steering wheel comes with access to tech features such as speed control. It even displays driver information.
Besides the standard seats, buyers can choose custom options, as well. The "family style" interior looks exceptional, although some buyers may opt for the modern luxury choice. "Choices" would be the better word, as there are 16 looks available.
Get inside the Chrysler 300 and see the interior for yourself. Here at Lithia Chrysler Jeep Dodge of Pocatello, we want you to take a test drive and experience the 300.